Adelheid 'Heidi' Kokott
July 5, 1950 - May 9, 2022
It is with great sadness that the family of Heidi Kokott announce her passing on Monday, May 9, 2022 at St. Joseph's Hospice.  Heidi is now in the loving arms of her son Sascha who predeceased her on December 12, 2019.  Heidi will be greatly missed by her sister Martha Berze and husband Frank, brother Herbert Grundner and wife Linda, nephews Bob Grundner and wife Sue and their children Jonathan and Kylie, Allan Grundner and his wife Ashley and their children Reginald and Basil.  Heidi lived life large and had so very many friends that loved her. Cremation has taken place.
Visitation will be held on Friday, May 27, 2022 from 6:00 – 8:00 p.m. at Westview Funeral Chapel, 709 Wonderland Road North, London, where a funeral service will be conducted on Saturday, May 28, 2022 at 3:00 p.m. A livestream will be available for those wishing to participate in the service remotely.
To register to view the livestream, please click here: Registration page to view Heidi's livestreamed service on Saturday, May 28, 2022 at 3:00 p.m.
Those wishing to make a donation in memory of Heidi are asked to consider The Terry Fox Foundation, St. Joseph's Hospice of London or the Canadian Mental Health Association, in memory of Sascha.
Leave a tribute for Adelheid 'Heidi' Kokott
Heidi you showed so much energy, enthusiasm, generosity, and above all, kindness over the years at LRCP. You are part of so many of my memories there. I will miss you.
Heidi "The Queen" had a wonderful spirit; she was playful and kind. She entertained us with her many hats imitating the Queen; she would give us the royal wave to complete the package. Her kindness and big smile are unforgettable, she will not be forgotten. Martha, I know she appreciated all the love and support you provided to her over the years. My condolences to the family.
Heidi, I met you on September 5th, 1981. You were 11 years old in grade 7 at the newly opened Queen of Peace School in Leamington. I was 19 years old, just graduated from London Teachers College and I was so excited about beginning my careeer thinking I knew it all. Well, I can look back now with gratitude for you and your fellow classmates who I taught for the next 2 years in grades 7 and 8. You taught me so much about teaching and those lessons stayed with me. Heidi, it was your gifts of joy, your smile, your care and your positive "can do" spirit that you brought to us and inspired us as you "lived life large" with us. Yes, we are thankful for you and will miss you.
I had the pleasure of meeting Heidi at Dr.. Mustafa's office many years ago. Heidi was always so lovely! She would dress up as Mrs. Claus at Christmas & always had a smile on her face. It was always a pleasure to see & talk with Heidi. Thoughts and prayers are with her family and friends. She will be missed. 💕
I had the pleasure of working with Heidi for many years at LRCP. She was truly one of the most positive people I have ever met. We had so many great conversations over the years. I remember Heidi trying to teach me German before I left for a trip to Europe. I did manage to learn a few words, which I practiced on her daily. She would always laugh as she responded. I have so many wonderful memories of her. My condolences to her family. Auf Wiedersehen Heidi!
Heidi was a dear friend, a neighbour, a lunch companion at the LRCC, a constantly happy and upbeat person. She loved hats but even more she loved her family and her friends. She and I played games together, did pub trivia, volunteered for anything affiliated with Terry Fox, and participated fully in everything she joined. This world needs more people like Heidi, who set such a shining example for us all.
Heidi was unique. How lucky was I to have known her these last few years. I'm going to miss our long telephone conversations, parades with Heidi as Queen Victoria, her many hats and just knowing she was close. My condolences to the family.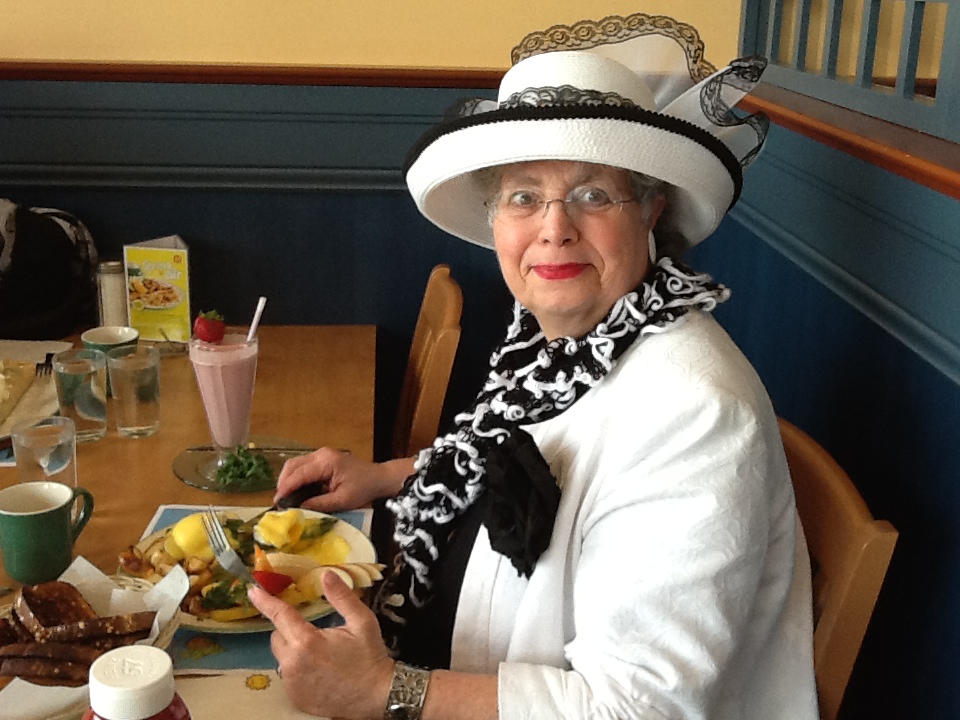 Through the many life challenges Heidi faced her motto always was "I choose to be happy". I will dearly miss her. Sister by birth, friend by choice. Love you sis.
Although I am sad to hear the news of Heidi's passing I am comforted that she is reunited in heaven with her loving son Sascha. I have known Heidi a long time, having worked with her and attended the same church together. Heidi was a kind and considerate friend. She always made people feel special and that they mattered in this world. Heidi had a brightness to her and oh how I will remember her hearty laugh. My sincerest condolences to all of her family and friends.
Heidi was such a lovely, positive person to be around. We attended church together and become friends over the years. She was known as the "hat lady" at church. I had the pleasure of accompanying her as "Lady in Waiting" at the Delaware Parade, when she was Queen Victoria. I will miss you my friend. I send my condolences to the family.
I will never forget that amazing collection of hats. There was not a hat that did not suit Heidi. Heidi was the most upbeat person I have ever met. She found joy in the smallest of things. Always a smile, and oh god, that laugh! Heidi was a wonderful friend, always ready for an outing or a chat. The world needs more people like Heidi. My heartfelt condolences to all her family and many friends. Rest In Peace my friend, you will be the belle of the ball up there!
I am very sad to hear about Heidi's passing. Heidi was an original for sure. She was known for her kind demeanour and outgoing nature and that laugh! I worked with Heidi for many years at the LRCP and we often ate lunch together. Her large collection of hats and costumes were enjoyed by many. She was in costume as Queen Victoria, the Snow Queen and no one will ever to replace Heidi as Mrs. Clause. My condolences to her family.
Heidi has been a great friend and and a wonderful co organizer with Home and School with me for many many year. RIP my friend you will be missed
I am so very sorry to hear of a Heidi's passing. The world has lost a dear soul who was kind and caring and always a good friend. We will miss her and cherish the example she set for us. She was loving and was loved. Nancy
It was always a great day when working with Heidi. She always had a smile on her face and encouraging words to say to all. Heidi had the best stories to tell and was just the most kind woman I have ever met. All my love and prayers to all that got to know her! She will be missed.
Make a donation
If you wish to make a donation, please consider one of the charities listed below. You will be taken to the charity's website to process your payment.
The Terry Fox Foundation
St. Joseph's Hospice of London
Canadian Mental Health Association
Notify family of your donation
Kindly submit the form below if you wish to notify the family of your donation.