David Frank Gray
October 4, 1938 - August 15, 2022
David Frank Gray, 83, passed away peacefully in Stratford General Hospital. His wit and wisdom will be missed by family, friends and colleagues.
Predeceased by his brother Gary William Gray of Wisconsin, USA and survived by his sister June Alice Wisemen (née Gray) of Texas, USA. Loving father to Elizabeth Alice Sandor (David W.), Rebecca Frances McClure (Scott), Simeon Warren Gray and Nathanael William Gray. Thoughtful and playful grandfather to Sarah, Joshua and Sephora Sandor, Megan and Lillian McClure and Tolomeo Gray.
David graduated with a Bachelor of Science (1960) from the University of Wisconsin, and a MSc (1962) and PhD (1966) from the University of Michigan in Astronomy. David and Katherine (née Price) moved their family to London, Ontario, Canada in 1966 where he joined the Physics & Astronomy Department at University of Western Ontario, now Western University. He remained Professor Emeritus after his retirement and continued with academic work, including the publication of the 4th edition of his text book The Observation and Analysis of Stellar Photospheres in 2022, first published in 1976. His contribution to astronomy included being president of the International Astronomical Union Commission 36 on the Theory of Stellar Atmospheres (1988-1991), serving on the observing-time allocation panels for international collaborations such as Hubble Space Telescope and the Canada-France-Hawaii telescope, but he was equally proud of the work done at Western's Elginfield Observatory. He was an active member of the Canadian Astronomical Society and the American Astronomical Society. He was invited to lecture world-wide at many institutions, including the Canary Islands Winter School of Astrophysics, the Catania Observatory and the Beijing Observatory. He published more than 80 scientific papers and the comet 236616 Gray is named in his honour.
David was born in Chicago, Illinois, USA to Gertrude Bernice (née Ansley) and Frank Gray (born Franciszek Graczyk). When he was 9 years old his family moved to a farm outside of New Lisbon, Wisconsin. There he began his journey to embrace a rigorous lifestyle and an intimate connection to the outdoors. He was an avid bird and wildlife observer, an Eagle Scout and a traditional style archer throughout his life. He canoed and hiked with his family in Ontario, the Rocky Mountains, and the United States. These experiences instilled in his children a reverence for the outdoors and gave them wonderful memories. His children and grandchildren continue to love and cherish what he called the most interesting planet in the solar system: "Earth." David was a fiercely independent man who took his nearly unwavering schedule very seriously, though he was just as serious about fun and exercise. He loved to sing and dance and was a baritone in the Metropolitan United Church Choir, London, Ontario for many years. He was a lifelong body-builder and took up tap dancing in his 70s. His poems and puns might be missed by some, his vivacious personality will be missed by everyone who knew him.
David's ashes will be spread by his family to, in his words, fertilize the soil. A visitation will be held at Westview Funeral Chapel, 709 Wonderland Road North, London on Friday, October 28, 2022 from 6:00 to 8:00 p.m., where a remembrance service will be held on Saturday, October 29, 2022 at 1:00 p.m. A livestream of the service will be available for those who are unable to attend in person.
To register for the livestream, please click here: Registration page for the livestream of David's service on Saturday, October 29, 2022 at 1:00 p.m.
Charitable donations may be made to Tree Canada or the Royal Astronomical Society of Canada in David's memory.
Leave a tribute for David Frank Gray
I started university when I was 17 back in 1996. I was so focused and insisted on the taking science courses only which made my first semester very dry and stressful and made my university experience painful until my roommate who was studying social studies at the time suggested we try to take a random course together. We ended up in Prof. Grey's astronomy 101 class and I'm not exaggerating when I say he turned my year around. I tell people I loved my astronomy course, but it's not really so, what I loved about that course was the teacher. He made it so much fun, he was such a sweet person who was so passionate about what he taught and about his students, and it showed in every class. I will never forget his assignment: "go lay down and observe the moon tonight", nor will I forget his dad jokes: "We keep grad students locked up in a room working and roll berries under their door every hour for sustenance...". He was the kind of teacher and person and I strive to be all these years later. He will be missed, but never forgotten.
I met David about 10 years ago he hired me to do some ceramic tile and stone work throughout his home near St Mary's we always had good conversation and he talked about his years with university and touched on his years in Wisconsin . He was always thoughtful and nice He also mentioned of camping with his grandchildren on his large property on the other side of his pond I have always thought about him now and again he will be missed dearly and my heart goes out to his family. Goodbye David enjoy your new chapter in Life
I started my master thesis reading his papers and the 1992 version of his book on Stellar Photospheres. During my PhD I read the 2005 version of the same book and sometimes I wrote to him to ask about his spectroscopic methods. I was so curious about his books and papers that I also read the version 1976 of the same book and all his papers. He was so happy about my extensive application of the line depth ratio method that he asked to me to let him know if I met errors in his book! We started a message exchange and he was very happy to know that I carefully read his books and papers. He found my opinions interesting! I felt small compared to him, but he made me feel at ease although I was a student. Now, I am a researcher and I consider David one of my mentors. His humility and amazing knowledge will miss to me. It is quite strange how I discovered about his passing away: I was looking at the 2022 version of the same book and I was thinking to write to him to send me an electronic version of the book, but I found the page of the obituary. I'm so sorry for his death. Thanks a lot David and rest in peace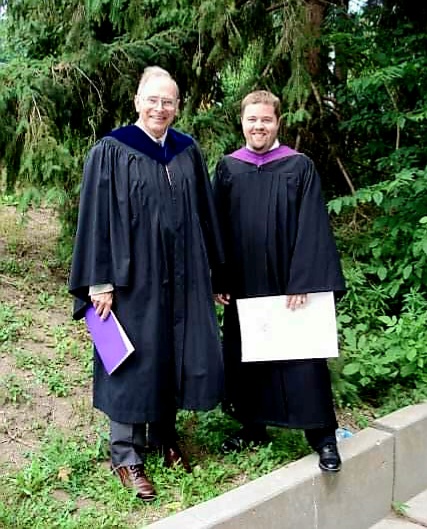 I had the pleasure of knowing Prof. Gray through my older brother, Kevin Brown while at Western University. Dr. Gray was Kevin's PhD supervisor and on countless occasions I would visit the Physics and Astronomy Building to see Kevin, but happily run into Dr. Gray He was always kind, friendly and funny. He knew I was studying History and asked how things were going. I'm grateful we celebrated Kevin's graduation together, both at the ceremony and dinner too. His passion for Astronomy was more than apparent and his dedication to the Elginfield Observatory, and students was known. His knowledge and dedication to the field will live on, but as an historian, I will remember his smile and humour. With fond memories, Kara Brown Ian and Carolyn Brown
My condolences to the whole family. I only really knew Dave when I was a teen 'around the corner on the side road", but he was an example of what seemed to me an admirable renaissance man. Vale to a 'damn fine man."
I am very sorry to hear of Dave's passing. He was already an Emeritus Professor in Physics and Astronomy when I started 19 years ago, and I really appreciated his presence. He was one of my favourite guys to talk to. I respected him a great deal, and I find it hard to believe he's gone. Condolences to his family and close friends. - Prof. Blaine Chronik
Services for David Frank Gray
Visitation will be held at:
Westview Funeral Chapel
709 Wonderland Road North,
London, Ontario
October 28, 2022 6:00 pm to 8:00 pm
Remembrance Service will be held at:
Westview Funeral Chapel
709 Wonderland Road North,
London, Ontario
October 29, 2022 1:00 pm
Make a donation
If you wish to make a donation, please consider one of the charities listed below. You will be taken to the charity's website to process your payment.
Tree Canada
Royal Astronomical Society of Canada
Notify family of your donation
Kindly submit the form below if you wish to notify the family of your donation.