Deacon Dennis Rivest
July 14, 1965 - July 31, 2022
Deacon Dennis Rivest was welcomed into eternal life, peacefully at home surrounded by close friends and immediate family, after a long and courageous journey with cancer on Sunday, July 31, 2022. Dennis was truly a remarkable model of service, humility, grace, and resilience. Through each trial and setback, Dennis persevered and lived the good life, remaining steadfast in his faith. He defied odds and became known among his community care team as "a medical miracle" and "unique." To know Dennis was to encounter Christ's love, and he inspired all those who knew him. Though Dennis could not speak due to his illness, he preached the Gospel through his acts of service.
Born in Windsor, Ontario, Dennis was a devoted and loving brother and son. He is fondly remembered by his parents, Genevieve and Paul Rivest; and his siblings Robert (Vicki) Rivest, Sharron Rivest, Elaine (Dennis) Nocent, and Paul Rivest. From an early age, Dennis was drawn to a life of service beginning with the Reserves, then with the Air Force as an air frame technician. He achieved his lifelong dream of joining the RCMP as a constable with hopes of being chosen for the Musical Ride. In 2000, Dennis, Cathy, and their young family decided to return to Ontario to find their permanent roots. He was hired as a constable with London Police Services, where he worked in various roles and kept his community safe. While still with London Police, Dennis answered his call to spiritual service and went through formation to become a deacon. In 2013, Dennis was ordained to the Permanent Diaconate and was assigned to St. George Parish in London, Ontario. He later became the Director of Permanent Deacons for the Diocese of London, a role in which Dennis found great spiritual fulfillment. Whether a badge or alb, Dennis wore each uniform with pride, honour, and a commitment to service.
Throughout his life, Dennis had many hobbies and loves, including watching movies with his family, cheering on the Toronto Maple Leafs, and bowling. During the last few months, Dennis found great comfort and joy in building model ships, spending time with his "grand-puppies," and working on his virtual farm on his Xbox. One of the best memories that Dennis made this year was attending his first Leafs game in Toronto in March, which was a lifelong dream of his.
Dennis was an exemplary model of fatherhood to his two daughters, Christina (Steven) Barber and Danielle (Nathan) Durand. Dennis instilled in his children the importance of family, faith, and community, and he always encouraged them to rely on and support one another. He shared with them his love for country music, the Toronto Maple Leafs, and John Wayne classics. Despite the medical challenges of recent years, his children were blessed to have him officiate Christina and Steven's wedding and be present for Danielle and Nathan's wedding. Even though he wore many uniforms, he was first and foremost a father.
Dennis was a devoted and loving husband to Cathy, to whom he had been married for 29 years. Dennis and Cathy were a model of Christian marriage and chose to love one another each day. On the day of his passing, Dennis and his family watched his and Cathy's wedding video. As the wedding video neared its end and the two of them walked down the aisle to leave, Dennis was called home to his Heavenly Father, reminding us all that they had truly fulfilled their vows to each other to love one another, "all the days of their life."
The family would like to extend their heartfelt thanks to the London Regional Cancer Program at LHSC and Dennis' incredible palliative care team, who honoured Dennis' dignity and supported his family on this journey. A special thank you to Dr. Cathy Faulds, Dr. Daniel Pepe, Dr. Hassan Mostafa, Amanda Williams, Carrie Ielapi, and Lawrence Durham. During Dennis' final days, his wish of being comfortable at home was met with such compassion and excellence; truly, these individuals were angels to Dennis to help guide him on his journey home.
Please join us in celebrating Deacon Dennis' life. His visitation will be at Westview Funeral Chapel (709 Wonderland Rd N, London) on Friday, August 5, 2022 from 1:00 p.m. – 3:30 p.m. and 7:00 p.m. – 9:00 p.m., with Vigil Prayer from 6:30 p.m. – 7:00 p.m. Funeral Mass will be celebrated at St. George Parish (1164 Commissioners Rd W, London) at 11:00 a.m. on Saturday, August 6, 2022. A reception in the St. George's Parish Hall will be held following the interment at St Peter's Cemetery. A livestream of the funeral will be available on the Springbank Catholic Family of Parishes YouTube page – please click here to to view the livestream. In lieu of flowers, donations can be made in Deacon Dennis' honour to the Palliative Care Program at St. Joseph's Health Care London.
As this is a celebration of Deacon Dennis' life, the family encourages attire of bright colours and Western wear. They also strongly encourage those in attendance to wear masks.
Leave a tribute for Deacon Dennis Rivest
To Cathy, Christina and Danielle... Please accept my sincere sympathy on the death of Dennis. He was, as was described, an outstanding example of husband, father and Christian witness in all of his undertakings. It was our privilege to have him serve in our Diocesan Church. Bless you and your families, Father Mike Parent, Retired.
My condolences to all who are mourning Deacon Dennis. He has been and will continue to be an inspiration and example to me of what it means to be a deacon. Eternal rest grant onto him O Lord and may perpetual light shine upon him.
Cathy and Girls I am so sorry for your loss. My cousin Dennis was a man of great pride and service to his community and lea es a great legacy behind. He is now a guardian angel to many. Love Denise, Jim and boys.
I miss you already. You touched so many lives.
Dear Cathy and family, we hold you in our prayers during this deep loss of your soulmate Cathy, and father for the girls. Dennis was a true servant leader in a humble and quiet way, a man of faith who witnessed god's love to all who met him. In the hope of the Resurrection we pray. Courage, Toinette and Tony.
Our sincere condolences from the McBeath-Dynes Funeral Home Family and the Glendinning Funeral Home Family. We will keep you all in our thoughts and prayers during this difficult time.
Praying for family and Dennis and his everlasting peace. 🙏
Our heartfelt condolences Cathy and family in your time of loss and sorrow. Keeping you in our thoughts and praying that God will give you strength and courage in the days ahead. Deacon Dennis was a faith filled man who not only preached the gospel but lived it & shared it with others. May he Rest In Peace in Gods heavenly kingdom.
My heartfelt condolences and prayers for peace and healing. Dennis wore many hats and each one of them with the same dignity, pride and faith. As Chaplain, our paths crossed often and Dennis was always the steadfast, faith-filled man in every role. As school community officer, police officer and Deacon, he put our Lord first. Thank you for making our world a better place and living on through the lives of so many. Rest in the arms of God my friend, you will be deeply missed.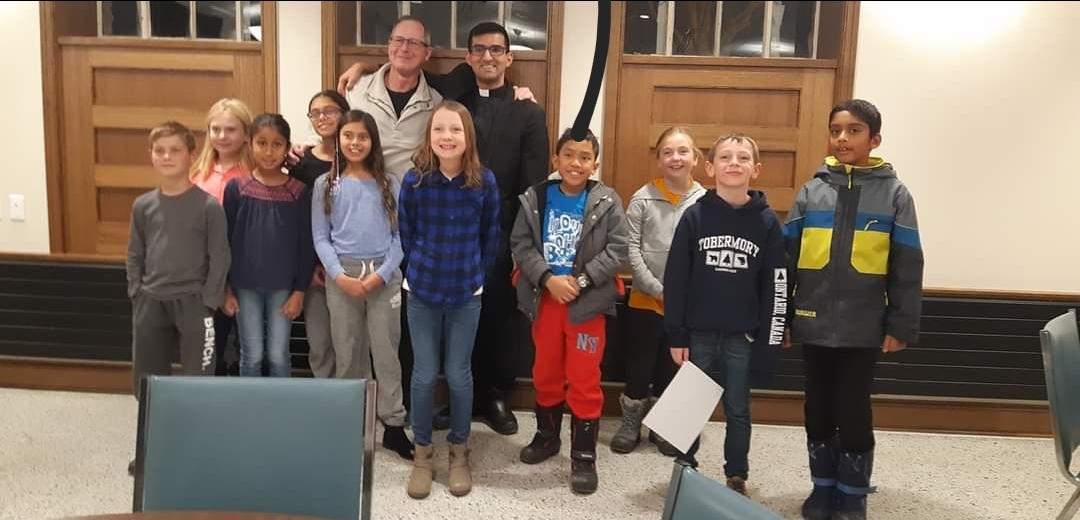 We will surely miss your welcoming smile Deacon Dennis. You're Christlike - a true suffering servant (patient, faithful & trusting). You loved the altar servers and taught them everything. Eternal rest grant upon your soul. Rest in peace. You will be missed! Prayers and sympathies to Cathy & the Rivest family. With love, Allan, Lei, Lalaine & Aidan
Dan was an exceptional brother in Christ. His heart was for Jesus. Praying for peace for his family. Blessings.
What an honor to have known deacon Dennis. A truly lovely man. I hope he received my thanks for the beautiful prayer he sent my husband and myself on the occasion of our sixty fourth anniversary. You and your family are in my prayers. we won't forget you. Cynthia.
I am very sorry for your loss. I worked with Deacon Dennis on the Diaconate Advisory Committee, and considered him a personal friend. He was full of energy, and always looked out for the interests of the Permanent Deacons within the Diocese of London. He will be greatly missed. However, he will most definitely enjoy Heaven!
Our most sincere condolences to Cathy, Danielle, Christina and all your family . Dennis was one of the great people of St George Parish. Our family was blessed to have Deacon Dennis as a support to our family , and my mother in her last days ; he came to our home to give her a blessing the evening before her passing . We will never forget him for his kindness Dennis embodied the expression "Semper ad Meliora"; he spoke from the heart and lived what he spoke. Our Parish has lost a pillar that cannot be replaced. Our Love and Prayers are with all the Family Rick , Betty and Jay La Rochelle
I am very saddened to learn of the passing of such an incredible man, Deacon Dennis. As a parishioner of St. George, I was truly blessed to have known him just as all parishioners were. Deacon Dennis always spoke from the heart, be it through his homilies, or when greeting people or saying goodbye at the church doors. His words and actions radiated God's love always. Praying for all of Deacon Dennis' family on your difficult grief journey. May you all feel God's Healing Touch, His Peace, His Hope, His Comfort, and His Light.
My sincere condolences to the family of Dennis. I knew him through my position at the LPS and also through a prayer group that Dennis was instrumental in forming a few years ago for LPS members. Dennis was truly one of London's finest. He had a big heart for others - sincere and compassionate. May your good memories outweigh your sadness and may the Lord give you the peace that passes understanding. God bless
A donation has been made to Palliative Care Program St. Josephs. Message from the donator: Dear Cathy, Danielle , Nathan, Christine and Steven, We are heartbroken about the passing of Dennis. He was an incredible man of faith! He has left the legacy of an amazing family. We are praying that God will you give you strength as you grieve his absence. Peace and prayers, The Burtwistle Family
Our sincere condolences to Cathy and the girls. He will be greatly missed by everyone. He was always so friendly to us and everyone at church. He really was a great and loving person. Heaven has another angel!!
Paul and Karen Lebert wish to offer our deepest condolences to Genevieve and Paul an family. Although we don't remember meeting Dennis, he sounds like an amazing man. Cherish all your memories.
My sincere condolence to Cathy and all who cherished Dennis. May this wonderful man, who suffered so much, now rest in God's peace from all his loving labours. It was a privilege to get to know Dennis, a precious gift to be inspired by him. Witnessing how valiantly he embraced his long illness while at Victoria Hospital and trusting in God's grace, spoke of his deep faith. May the angels now accompany you, Dennis, as you return to God whom you loved and served so generously.
My sincerest condolences go out to Denis and his family. I will remember his kind eyes and gentle manner. I know the Lord has accepted him with open arms and will give him everlasting peace.
In March 2003 Dennis was one of my coach officers with the London Police Service. We worked very closely and I learned many aspects of policing from him. I was sorry to read about his battle with cancer and his passing. My sincerest condolences to his family.
We are so sorry for your loss Dennis was a great guy you all must have been so proud of him he accomplished so much in such a short time. Dennis always found a way to stay upbeat no matter what the situation it was an honour to have worked with him!
Dennis you were lime a brother to me. We first met in Cold Lake Alberta on our first Military postings. Best man at my first wedding and Godfather to my son. With many postings a few get together of the Mountaineers singing group (you and I) was Always a great time. Was the person who took the phone call when I was on vacation at you place in Moose Jaw Sask from the RCMP welcoming you to training You were working at the time. We share many a laughs and tears but we always got through things. I have many stories of him and I and just of him and would make you laugh and cry. Brother you are finally out of pain you are now with the creator 🙏 of this great place you can stand at ease you job is done and will be missed dearly Rest in peace Brother rest in peace I will miss you!!!
My sincere condolences Cathy, Danielle, Christina and family. I worked with Dennis for many years at LPS. He's the kind of co-worker everyone should be so blessed to work with. A glass half full kinda guy. My thoughts and prayers are with you all. He will be greatly missed.
Dear Paul and Genevieve and all the Rivest family. We are so sorry to hear of Dennis passing. He will be greatly missed in his community . Again our deepest sympathy. Randy and Mame Scratch.
I'm retired civilian with London Police. The first thing that comes to mind with Dennis is his Cowboy boots and Cowboy hat when he attended cpic to get sworn in. Sweet and kind. Worked with him closely when he was doing warrants and l still in cpic and later when I was in court services and at the courthouse. I'll remember him being so caring and considerate and I still have the Law Enforcement bible to refer to and remember him by. My sincere condolences to all of his family ❤️
Cathy and I first met Dennis when he originally moved to London and we were assigned to the same Patrol Sections of the London Police. In the beginning, Dennis moved to London alone, with Cathy and the girls soon to follow from the west. Albeit initially alone at times, he always attended our social functions and was always there to volunteer to assist with any organizing duties. We ultimately ended up as neighbours in Byron. Dennis was always happy, supportive and enthusiastic when dealing with others, both personally and professionally at work. As a Deacon at St George Church, Dennis was always the first to greet our family and embrace me in a hug, which he knew from work I personally detested!!!! We will miss seeing Dennis decked out in his western ware, including his larger than life belt buckles. Our thoughts and prayers are with Cathy, the girls and their families. Rest in peace my brother in blue, you were taken too soon!
Our sincere condolences to all of the family of Dennis. Dianne and I had the pleasure of knowing Dennis as we were both London Police employees. Though not close friends I recall you never saw Dennis without a smile, a kind word and a belt buckle you could eat a meal off of. May your many wonderful memories of Dennis help you through the difficult times. In the words of John Wayne, "Courage is being scared to death, but saddling up anyway."
Dear Cathy, Danielle, Christina, Nathan, and Steven, I am so very sorry for the loss of Dennis. He was a wonderful man, and I could tell how much love for you all that he had. Every time I seen him at church he was always so happy and glowing in God's love for him. When he came back to church after his first round of treatment, I noticed that he never once complained about his cancer. He truly was a gift of God. My blessings are with you all, and I can see him riding off into the sunset on Echo with his cowboy boots and hat. Love to you all, Dawn Cormier ❤️🙏🏻📿
Services for Deacon Dennis Rivest
Visitation will be held at:
Westview Funeral Chapel
709 Wonderland Road North,
London, Ontario
August 5, 2022 1:00 pm to 3:30 pm
Vigil Prayer will be held at:
Westview Funeral Chapel
709 Wonderland Road North,
London, Ontario
August 5, 2022 6:30 pm to 7:00 pm
Visitation will be held at:
Westview Funeral Chapel
709 Wonderland Road North,
London, Ontario
August 5, 2022 7:00 pm to 9:00 pm
Funeral Mass will be held at:
St. George's Parish
1164 Commissioners Road West,
London, Ontario
August 6, 2022 11:00 am
Make a donation
If you wish to make a donation, please consider one of the charities listed below. You will be taken to the charity's website to process your payment.
Palliative Care Program - St. Joseph's Health Care London
Notify family of your donation
Kindly submit the form below if you wish to notify the family of your donation.