Gary Fredric Smyth
June 2, 1953 - February 19, 2022
Passed peacefully after a sudden and brief illness at Victoria Hospital, London, ON, with his loving wife Pauline, son Eric and daughter-in-law, Jessica, at his side.
He will be remembered by his wife Pauline; sons Ben (Candice) and Eric (Jessica); sister Marilyn (Bellin); brother-in-law Doug; brother Ron; nephew Ryan (Heidi); niece Tracey (Dan); grandniece Kaylee (Keegan); stepson Kevin (Jennifer); mother-in-law Irene; brothers-in-law Gary, Mike, Steve and Tim; very special cousin, Loraine (Currie); and his many grandchildren and friends.
He was predeceased by his parents, Harvey and Lauretta Smyth, of Thunder Bay.
Gary grew up in Thunder Bay. He started working for CP Rail, became a great drywaller, and eventually went on to become a Canada Customs Officer in Windsor.
Gary's passion was music; an incredible guitar player. His love of the guitar began at the age of 11 when he saw The Beatles on The Ed Sullivan show in 1964. Gary spent many years playing with The Cruzeros of Kelowna, BC. He had the opportunity to travel with them countrywide and to Europe. Gary returned to school and received a degree in audio engineering at the Centre for Arts and Technology in Kelowna. He did studio recordings for many musicians and played with many others while living in Kelowna and eventually went on to write and record original songs on his solo album "How to Laugh". Gary was also a part of a wonderful musical project that honoured the life of John Denver, "Rocky Mountain High". Pauline and Gary shared a love of travelling, hiking, snowshoeing and adventurous road trips, and of their two dogs Spike and Dexter. He loved the Toronto Maple Leafs, and rarely missed a game. Everyone who was fortunate enough to have known Gary knew his kind, warm and sensitive heart and his wry sense of humour. He often gave to anyone less fortunate, by way of his musical talent. He will forever be loved and missed by so many.
A very special thank you to the Critical Care Trauma Centre – Victoria Hospital – your efforts were tireless.
Death is a wild night and a new road ~ Emily Dickinson
Leave a tribute for Gary Fredric Smyth
I was fortunate to have spent much of my teen years in the good company of Gary. We had our first trip to the West Coast together travelling in my tiny Datsun 1000 camping and staying in Youth Hostels. A deeply caring and funny Human Gary is one of the most compassionate and intelligent people that I have ever know. While I will miss him dearly I am happy to have had the privilege of sharing his fine mind, insightful humour and fine company. 💕🍀☮️
If I may share the words of Henry Scott Holland. Death is nothing at all. I have only slipped away to the next room. I am I and you are you. That, we still are. Call me by my old familiar name. Speak to me in the easy way which you always used. Put no difference in your tone. Wear no forced air of solemnity or sorrow. Laugh as we always laughed at little jokes we enjoyed together. Play, smile, think of me. Pray for me. Let my name be ever the household word that it always was. There is absolute unbroken continuity. Why should I be out of mind because I am out of sight? I am but waiting for you. For an interval. Somewhere. Very near. Just around the corner. All is well. Rest In Peace Gary
Gary, one day we will play together again. Thanks for being a fantastic human. You're very missed.
To be honest, I hadn't seen Gary for about 50 years! We had lots of laughs in high school as he did have a great sense of humour! We made the social media connection a few years ago and I could see how his love of music and guitar filled his life! Be thankful for the day peoples!
I'm Jeremy Messenger. Gary was a dear friend. We played music together and I really enjoyed his company. His character was very Christ like, very humble and extremely kind and he was always a pleasure to be around. He was underrated as a guitarist/bassist and singer.. he did all 3 extremely well, but also added his talents in making others around him better 🙏he will be dearly missed. Thanks for being so great Gary 🙏
I never knew you, many I know, knew you well, the music community has lost a bright star. May the heavens be filled with music 🎶
I found that the generosity of Gary's spirit shone through in all that he did…. He gave so much through his music, volunteering, and in friendship. My Sincerest condolences to Pauline and his entire family He will be missed Gord
I had the pleasure of knowing Gary during his time as a Customs Officer in Windsor Ontario. He is fondly remembered as a kind and gentle man with a whit that matched his love of music. May your wonderful memories of Gary give you comfort and peace. Joe McMahon Windsor Ontario
I truly miss Gary, he was a mentor, a colleague and friend! We reconnected about 10 years ago and I was so grateful we did. Gary was one of the kindest souls I have known and his sense of humour always left a smile on my face. It's still hard to fathom he is gone. I still expect to text him or him, me and we meet up for our usual coffee! Rest now my friend. I'm sure we will meet again some day! In the meantime, your spirit will always be close!!! My heart goes out to Pauline, Ben and Eric and the rest of the family. I know many friends are feeling lost without Gary's presence. May we all be as loved as I know he was!!!
The news of my dear friend Gary's passing has left a huge hole in me. We got to know each other through a love of music and guitar. We formed Stringers and became close friends and we shared many coffees and walks together. He will be missed! 🎸 Sean Bray
So sorry to hear of Gary's passing, we attended FWCI together as part of the musically influenced bunch. He was a talented man, unique and humorous. His FB messages and reminiscences were a delight to read. My deepest condolences to all of his family and friends.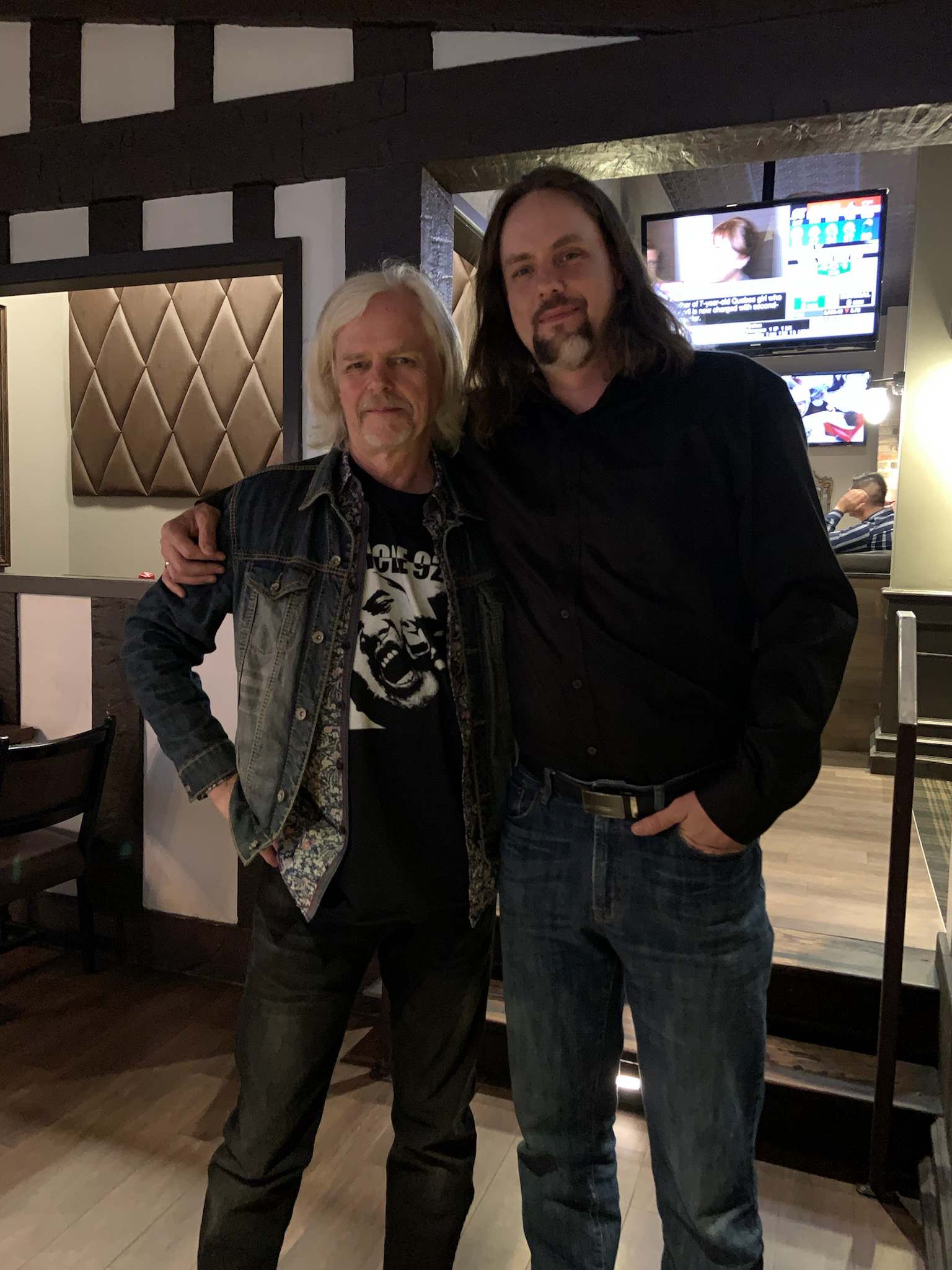 I miss you Dad. Always will! You were loved, you are loved and you always will be.