Jeffery 'Jeff' John Grant
April 6, 1970 - January 9, 2023
Jeff passed easily into rest at Juravinski Hospital in Hamilton, with his wife Jennifer at his side.  Jeff was diagnosed with Lymphoma in October, 2021.  His courage and positive mindset carried him through several rounds of treatment, and stayed with him through to his last days.
Much loved husband of Jennifer and fiercely proud father of George.  Jeff was predeceased by his father, Richard.  He is survived by his mother, Anita (née Reaume); brother Tim; sister Kim Winia (Jeremiah); nieces and nephews: Beverly, Matthew, Danielle, Isabelle, Nadine, Jamie and Alice.  He will be missed by many aunts, uncles, cousins, and his wonderful friends, who were able to surround him in his final days
Jeff will be remembered for his strength, his sense of humour, his storytelling, and his love of cooking, travel and the outdoors.  Friends and family were central in Jeff's life, and he enjoyed spending time with them, whether it be weekend dinners at his Mom's, large Reaume gatherings, or WWW fishing trips with the boys.  And the many hotel stays in so many places with Jen and George!
A heartfelt thank you to the doctors, nurses and staff who treated Jeff at the St. Thomas-Elgin General Hospital, the London Regional Cancer Program and Juravinski Cancer Clinic and Hospital.
Per Jeff's wishes, his body has been cremated. A memorial reception will be held on Sunday, February 19, 2023 from 1:00 – 4:00 p.m., with words of remembrance at 2:00 p.m.  In lieu of flowers, anyone who wishes to honour Jeff is requested to make a contribution to The Terry Fox Foundation, or to George's education fund via e-transfer to EducateGeorge@outlook.com
Leave a tribute for Jeffery 'Jeff' John Grant
I am so sorry to hear the passing of Jeff. My heart breaks for his family, whom he spoke so highly of and loved immensely! Working with Jeff was always a great time. I enjoyed our time together and all of his stories he would share. He will be greatly missed. My deepest condolences to the entire family.
I'm so sorry to hear of Jeff's passing . Sending Prayers to Family and Friends .
Jeff will always hold a special place in all of our hearts. He is remembered for his big smile and genuine kindness. We love you Jen and George, and we are here for anything you need.
Dear Anita, Jen & George~~~ Paul and I were both saddened to learn of Jeff's passing. At this very difficult time, please know that you are in our thoughts and prayers. May the wonderful memories of your dear son, husband & father live on in your hearts forever. 💙 Love, Judy & Paul
Jeff was a teammate and a school friend at Lucas. I always enjoyed his humor and smile, I looked forward to spending time with him. This is a huge loss for everyone. Thinking of you and wishing you moments of peace and comfort as you remember Jeff.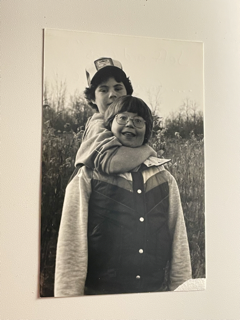 This one has been tough. Jeff and I went to Northbrae together for the elementary years and then Lucas for the high school years. We'd see each other occasionally through the college/university years and then I moved away. That left birthdays, weddings and funerals as the only opportunity to spend time with him, which I always enjoyed. I'm thankful for Facebook for letting me see his married life, the growth of George and ultimately his battle with cancer. I look forward to returning to London in February to see the family and old friends and celebrate his life. I will always have my lifelong memories of the time we spent together and that gives me comfort now that he's gone.
I am so sorry to hear the passing of Jeff. My heart breaks for his family, whom he spoke so highly of and loved immensely! Jeff was always such a pleasure to talk to at work and I know that he will be greatly missed by his family and friends. My deepest condolences.
I worked with Jeff for many years and he was always one of my very favourite people there. We chatted away for countless hours. So easy to talk to. He lit up when ever he talked about George. The proudest dad anyone could imagine. Sending my love to Jeff's family.
I am saddened to hear about Jeff's passing ,I worked many years with Jeff at Variform , whenever I saw Jeff in passing he always had a friendly hello and a smile on his face ,my condolences to his wife Jen and son George ,May he rest in peace
I am so very sorry to hear of Jeff's passing. I had the pleasure of working with him for 17 years at Vari-Form. Jeff had a huge heart and absolutely adored his little family so much. He was a very well loved co worker. Sending my sincere condolences to everyone 🙏
To Jennifer and George. My heart breaks for you both. I worked with Jeff several years ago but his spirit and friendship stayed with me. Watching him be so positive and brave over the past months was a true testament to his character. May your fond memories sustain you and your family's love hold you up.
I spent many years on the Health and Safety Committee with Jeff at Vari-Form. We shared a lot of stories over the years about fishing and our kids. Jeff's biggest smile that I ever seen was the day he came to work to tell everyone that Jen was expecting the birth of their son George. He was a very proud father and husband and he shared so many stories with everyone. Our condolences to Jen, George and family!
It is with deep sympathies that I send my condolences to Jennifer, George and family. Working with Jeff at Vari-Form was always a pleasure. He was a good story teller who had a strong belly laugh! He loved to share stories of Jennifers success and Georges growths! He left a forever impression on my life, to which I am forever grateful for. Rest in peace Jeff
Jeff and I went to high school together. He was always a super-great guy. I'm so sorry to hear that he passed away. My condolences to his family. May his memory be a blessing.
It was both; an honour and a pleasure to have known and worked with Jeff for so many years. Always upbeat and positive, Jeff almost always had a smile on his face. He is, and will be truly missed as a Vari-Form family Member. Our deepest condolences to Jeff's Family and close friends for their loss.
Jeff was a great co-worker. His sense of humour and great fishing stories made my days at Variform that much more enjoyable. He will be greatly missed. My condolences to his family.
Make a donation
If you wish to make a donation, please consider one of the charities listed below. You will be taken to the charity's website to process your payment.
The Terry Fox Foundation
Notify family of your donation
Kindly submit the form below if you wish to notify the family of your donation.