Patricia 'Pat' Phyllis Zimmerman
January 15, 2023
It is with great sadness that we announce the passing of Patricia on Sunday, January 15, 2023 in her 76th year. Pat is predeceased by her dearest parents Vincent and Mary Wright. Pat leaves behind Ted, her loving husband of 55 years. She is survived by her loving sisters Joanne Bisaillon, Denise Gray and Carolynne Schaefer. Patricia will be dearly missed by her sons Adam and Andrew and daughters-in-law Kim and Linda. She leaves behind her loving grandchildren Nate, Logan, Lily, Leah and Madelyn.
Pat touched the lives of not only her family, but everyone she met. She had many, many circles of friends, neighbours and teaching colleagues. Pat loved to travel and saw much of the world throughout her life. She engaged in many activities and in many causes. Pat was active in the lives of her family, her community and the Catholic Church. She is a loss in the lives of many people.
Visitation will take place at Westview Funeral Chapel, 709 Wonderland Road North, London, on Saturday, January 21, 2023 from 1:00 – 2:00 p.m., with a Celebration of Life to follow at 2:00 p.m. Cremation has taken place and a private family interment will occur at a later date. Those wishing to make donations in memory of Pat are asked to consider the PKD Foundation of Canada, a cause near and dear to the family.
Leave a tribute for Patricia 'Pat' Phyllis Zimmerman
A donation has been made to PKD Foundation of Canada.
Sending condolences and enormous hugs to Ted and family. We have so many fond memories of Pat in our boating life. We remember Pat with a smile. She was always fun to talk to and had a fantastic sense of humour. She was warm and kind, and will always have a special place in our hearts.
Sending my condolences to Ted, Andrew, Adam and your families. Over the years, I've witnessed Pat's kind and nurturing character, particularly towards her beloved grandchildren. My thoughts and prayers are with you all during this difficult time.
Dear Ted, and family, During this difficult time, may you find comfort in your loving memories, support from those who care for you and peace from the faith that lives within your heart. With heartfelt sympathy, John and Ingrid Huls
To Ted and the boys and their families, Our deepest condolences to all of you! Patsy was a beautiful person inside and out! A wonderful wife, awesome mom , a loving and fun grandma. Always ready for an adventure! We have been friends for 53 years and have great memories of our times together! We will miss you dear friend! Cathy & Pat
Ted, my thoughts are with you and the boys and their families. As you know Pat was a friend from our childhood, walking home from Grade school together in Brantford. And bussing together to High school across town. She was the ultimate friend. She had a ready smile, a quick wit, and was always ready for a laugh. I am grateful we shared so many years and experiences together. Thinking of all of the family, Much love, Cathy and Family
Adam and Kim, Our sincere condolences to you and your family on the loss of your dear mom. Our thoughts and prayers are with you during this difficult time. Teresa and Pat Moran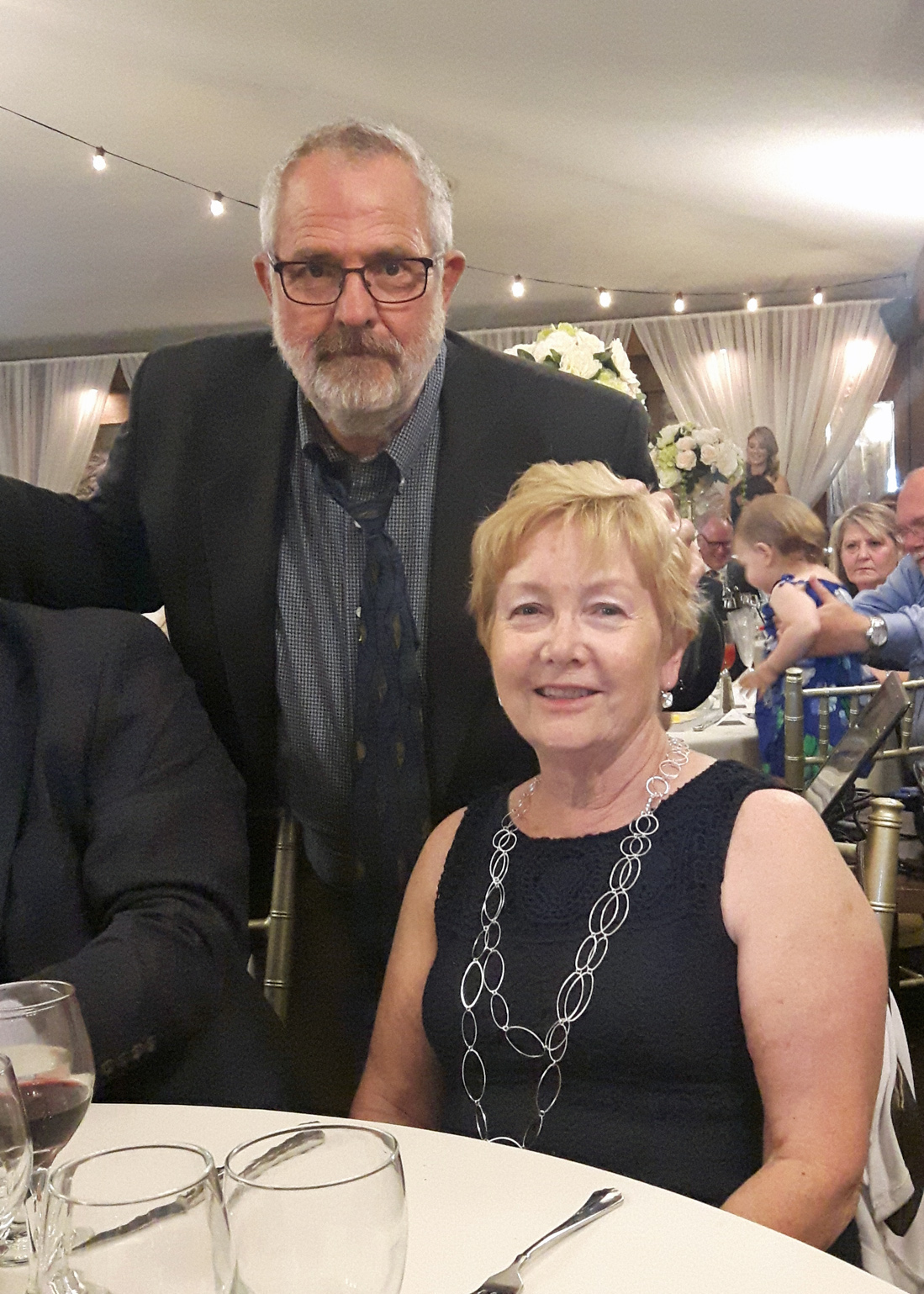 So very sorry for the loss of another friend. She was such a joy to be with, chat with, a true lady. It was an honour to call her our friend. Although we have missed their presence at the Dock, we have stayed in touch by email and text. Had already mentioned a visit for the coming summer. Now we will have just our memories and stories. We send our deepest sympathy to Ted, their Children and Grandchildren, of whom she was so very proud.
Dear Ted and Family, My sincere condolences on the sudden passing of Pat. Pat was always so friendly and a bright light in the neighbourhood. Doris has always shared with me what a good friend and neighbour Pat was to her. And I will always appreciate the kindness that both you and Pat showed to my daughter McKenna. She loved her visits with Mr and Mrs "Z". Thinking of you and your family. Christine Sheridan-Guy
Dear Adam and family, Sending you our sincere condolences. We are very sorry to hear of the passing of your mom. She was a beautiful person. You are all in our thoughts and prayers. Rob, Sanja and the girls
Ted and Family, Don and I have lived next door to Pat and Ted for 17 years. The best neighbors anyone could wish for. If ever you needed help with anything they were there. We would chat about the usual things neighbors chat about, the weather, the kids and what the neighborhood was like before we moved in. Pat is an intelligent lady. I enjoyed our chats and will be there for Ted in anyway we can. We shall miss our neighbor. Our sincere condolences Don and Gillian
Ted and family. We were so sorry to hear about Pat. Our heartfelt sympathy. We always enjoyed sharing some laughs, good conversation and comparing travel notes with both of you along the dock in Bayfield. Just thinking about all of you as you face the difficult moments ahead.
Sending my condolences and support to Ted and family. I first met Pat in 2013, she was the first to personally greet me and welcome me to the Bayfield River Cottage Colony Marina. I will never forget her warm welcome that turned into a friendship. She was a lovely kind soul who inspired and encouraged me through the years I knew her.
Ted and Family. We were shocked and saddened to read the news of Pat's passing and are still having difficulty processing. Pat was one of the kindest and thoughtful people we have had the privilege of knowing. She will be missed by all who knew her.
Our most sincere condolences to all of you at this time of great loss. May good memories eventually bring more smiles than tears. Praying for all of you as you navigate the days ahead.
Make a donation
If you wish to make a donation, please consider one of the charities listed below. You will be taken to the charity's website to process your payment.
PKD Foundation of Canada
Notify family of your donation
Kindly submit the form below if you wish to notify the family of your donation.