Rose Ann Marie Durand
July 30, 2022
Peacefully surrounded by her family on Saturday, July 30, 2022. Devoted wife to late husband Denis (1998). Loving mother of Denise (Tom) Vandenberg, Robert (Gail), Christopher (Darlene), James (Jenna), and Monique. Loving Mémé of Matthew, Jacob, Celine, Nathan, Nicole, Madelaine, Lara, Brigitte, Isaac, Danielle, Isabelle, Emma, Hayley and Noah. Great-grandmother of Millie. Dear daughter of the late Dennis and Geraldine Charrette of Zurich. Dear sister of Tony, late Phil, Fr. Richard, Monica, Paul and Gerard.
Rose was an incredible human being who loved the Lord, her family, church, and community and will be dearly missed. She touched the lives of so many people through her work as a chaplain in the school system and in every aspect of her life. She enjoyed sports including volleyball and baseball, living life to the fullest. It was her family and grandchildren that brought her the most joy and her love of life grew with every addition to the family. Anyone who stopped by her home was always welcomed with open arms and at any time of day. She is now in heaven with her lifelong sweetheart, Denis, whom she has missed dearly for 24 years. For those who follow Christ, life is changed, not ended and Rose has now begun her eternal journey as heaven's newest angel."
Visitors will be received at the Westview Funeral Chapel, 709 Wonderland Road North, London on Sunday, August 7, 2022 from 2:00-4:00 p.m. and 7:00-9:00 p.m., with prayers at 6:30 p.m. Funeral Mass will be celebrated at St. Michael's Parish, 511 Cheapside Street, London on Monday, August 8, 2022 at 11:00 a.m. Interment at St. Peter's Cemetery. Those wishing to make a donation in memory of Rose Ann are asked to consider the Canadian Pulmonary Fibrosis Foundation.
Leave a tribute for Rose Ann Marie Durand
Rose was a wonderful person - who will be greatly missed. We always admired her enthusiasm, her compassion, and her devotion. We remember her as a colleague, a neighbour, a fellow-parishioner, and parent of children. She excelled in every role. Our heartfelt condolences to Denise, Rob, Chris, James and Monique, and the rest of her family.
We are so sorry for your loss, we did not know Rose well, but we heard nothing but extraordinary things. Our deepest condolences to the family.
Dear Durand family I am so sorry to hear about your Mom's death. We were neighbours for many years and would often chat. I always enjoyed our conversations and hearing about her kids and grandchildren. She was always kind and gentle and lovely to chat with. I have know Rose for many years through St Andrew the Apostle, through St Marks and John Paul . My children Julaine and Steven Eberhard experienced her kindness as well. Please accept our heartfelt condolences. I send you my thoughts and prayers as you navigate this huge loss. Blessings Jaime McGrail
Our thoughts and prayers are extended to the entire Durand family as you mourn the loss of a truly remarkable woman. May your Mom rest in eternal peace, free from pain and suffering. Jim Louisette Arleigh and Jackson Deam
A donation has been made. Message from the donator: In memory of Aunt Rose Ann
My deepest sympathies to the family. Aunt Rose Ann will surely be missed by all .
We are so saddened to hear of the passing of Aunt Rose Anne. Our deepest sympathies are with all of you and your families. We were lucky enough to have got to see her and catch up when she was down at Mom's. Her spirit will live on in all your memories.
My deepest condolences to the Durand family. I have wonderful memories of Mrs. Durand. She touched every person she met. May she rest in Eternal Peace with Our Lord.
I never had the opportunity to meet Rose but I've heard so much about her from Monique. I know she was an amazing, incredibly supportive mother who cared deeply for her children. Monique is one of the kindest, big hearted and generous people I know and a huge part of that can be attributed to being raised by her mom, Rose. I bet Rose is looking down on her children now with so much pride and love! [Rose, I'm so sorry I didn't get to meet you. I'd like to have said thank you for raising such an amazing daughter and being such a bright light in her life. I know you'll always be looking out for her from above (and telling her to pay attention to the road while driving and eat her dinner and fill up her car with gas!) and you will be forever in the hearts of so many. Durands, I'm so so sorry for this immense loss. My heart breaks for all of you. Please lean on your friends and loved ones, we're here for you.
Our condolences to the Durand and Charette families in the loss of your Mother, Grandmother, Great Grandmother, sister & friend! She will be missed.
I have such great memes of Rose. Had the privilege of being in her life both as a colleague and as a teacher when her children were at CCH. She never failed to make us laugh and to think "outside the box". I am sending my love and prayers to her family! She will have a special place in heaven for sure!❤️
Unfortunately I tested positive for COV1D on Friday, so I am unable to attend Rose's funeral. Rose and I first met when we both worked at Mother Theresa Catholic Secondary School. We made an instant connection, and became not only close colleagues, but close friends outside of work. We played baseball together. Oh what a ball player she was! She could always make me laugh, without even saying a word. We always had each other's back. She had a big heart and was always there with some good advice and a big hug. She helped many students and staff, including me, through rough times. She came into my thoughts several times during her last week of life. Something was telling me to reach out to Rose. I was planning to call her that next day, but sadly, I missed the chance to say goodbye. I was too late. Please know that your Mother was a very special person, and she'll surely carry on God's work in heaven. I, for one, will miss Rose terribly, and I am proud to have had her as a friend. God Bless. Linda Moore
Rose always treated staff and students with empathy, warmth and respect. She was a safe haven for so many. My sincere condolences to all she loved. Peace, Gary Clarke
To Rose's Family We will miss the always friendly smile and jovial chats with Rose - a special neighbour we will always remember . With Sincere Sympathy & Caring Thoughts Ron& & Betty Janke
My deepest sympathies to the Durand and Charrette families
To the Durand family, my sincerest condolences. Rose was an amazing woman whose dedication to her role as Chaplain at JP II was evident in everyone whose lives she connected with and impacted. Later in life, to see Rose smile when we saw each other at St. Michael's was always so uplifting and a reminder of her strong faith and deep connections to her community. Rest in peace Rose.
Dear Family - You are close in our hearts - with sadness and sympathy. Rose - a beautiful example of family, life and faith - to all. Remembering - the Charrette and Durand families - a special part of the Zurich and St. Joseph community. Sincerely - Cecelia and Don Denomme
A donation has been made.
My connection with Rose was through softball and I was blessed to get to know her and to play with her. Rose loved to laugh and was steadfast in her faith and her zest for her life even though it had challenges at time. She was an inspiration and I offer you, her family, my deepest condolences at this difficult time as you face her loss . My sympathy.
I was so sad to hear that Rose had passed away .She was my support and mentor my "mother chaplain " when I worked as chaplain at STA .She was so kind and caring to everyone and touched so many lives ...and she had a great sense of humour . Sincere sympathy to the whole family . Marie Ewald
To Roses family Sorry to here of Roses passing we were neighbors on 21 highway when we were kids RIP Rose
Rose, have fun again with your Dennis in the heavenly playground you are now in. You have been a good friend and faithful sister and we will miss your smile and laugh very much. God Bless and enjoy your time with your friend Jesus. Our love....His peace. P&P
Dear Denise, Rob, Chris, James and Monique, On behalf of myself and my family we are sending you our deepest condolences. I have so many joyful memories of your mom growing up. Your mom volunteering at our school, going to your family cottage, Mother's Pizza, playing at your house, seeing each other at church. Denise, sending you my love at this difficult time. My thoughts and prayers will be with you all.
I too had the pleasure and honour of working with Rose at JPII and while she certainly touched my life as she did others, I can't guess the number of student's lives she likely touched while there. She will truly be an angel in heaven as she was here on earth. My thoughts and prayers go out to all of her family.
I met Rose through the Huff&Puff community. Quite quickly and easily we became friends. Please accept my sincere condolences in your process of grieving. May the many happy memories help carry you through the journey. The Five colours that standout in my 'Rose' bouquet: 💐 Red Rose: Rose spoke so lovingly & fondly of her married years and of her ultimate love, pride and the gratitude she had for her multi generation children. Pink Rose: I share the commonly held description of Rose being 'sweet, sweet lady' and a 'joy' to be around. Rose always shared a greeting, a smile and was eager to chat to catch up. Direct eye contact had you notice her eyes smiled as well. Her eyes reflected just the right balance of sincerity with a hint of mischief, or a joke. Peach Rose: I never doubted that engagements with Rose were genuine, natural and meaningful. Yellow Rose: Rose had a tangible warmth and kindness that was captivating & drew people closer. Rose never met a stranger - she was a friend to all. Her friendship was valued. Ivory Rose: Rose's charm was undeniable. The accolades, memories and tributes extend widely, including within the Huff&Puff community.
We wanted to express our deepest condolences to the whole family during this sad time. Aunt Rose Ann will truly be missed.
To Rose's family, we are sadden to hear of the passing of your dear Mom. She was truly a gem, who will be missed by many.
Please accept my most sincere condolences. I had the honour of calling Rose a colleague. She was the most sincere, caring, faith filled, funny and loveable person you would ever meet. I cherish the memories of our many chats. May Rose's legacy of kindness bring you comfort at this time. I will keep your beautiful family in my thoughts and prayers.
We are ever so grateful for Rose's chaplaincy ministry which touched the lives of many students and staff alike. Her deep faith, compassion and wonderful sense of humour made her a source of strength and comfort for many students, families and staff.
Rose was the first person I met when I started at John Paul II. She was a wonderful Chaplain and had a warm and caring presence in the school community. She loved to joke about being the "Church Lady" from Dana Carvey and SNL and always had a great sense of humour and life. She will be missed greatly. Condolences to her family with special mention to Denise and Monique.
Rose was a terrestrial angel. She was a loving caring person and it was many a time that I would stop in at the Chaplain's office at MTS to chat and laugh with her about life and she would welcome me as if I was her daughter. I loved her and will always have a place for her in my heart. I deeply regret that I will not be in London and therefore unable to attend her funeral visitation and mass. To all of her family, I can only imagine how intense the loss is. She will be dearly missed. She touched many lives in big ways. Although I didn't get to say goodbye to her, I want to thank her in heaven and wish her a lovely reunion with Denis, her husband. Rest In Peace dear dear Rose! Cathy
Chris, Darlene, Nathan & Emma The lessons and words of wisdom we learn from our parents survive long after they pass. I hope that during this time, you can lean on your fondest memories to provide comfort in your journey through this loss. You are in my thoughts and prayers. Nancy, Richard & Jordyn Masse
Rose was always a bright light as Chaplain at Mother Teresa CSS. I loved her calming presence, sense of humour, and kind heart. She had a huge impact on staff and students and will be missed by so many. God Bless you, Rose. Sending Love, Bess
Dear Denise, Robert, Christopher, James, Monique and Families, Our deepest sympathy to all of you in the loss of your dear mother, grandmother and great-grandmother. Rose was such a beautiful, loving, understanding and caring lady. I have been blessed with her friendship for the past 68 years. I have many, many wonderful memories of our times and talks together that I will cherish forever. Hopefully all those special memories you have of your mom will help you through this very difficult time. Our love and prayers to all of you!
On behalf of the Dorchester Ladies Masters and the Thames Centre Slopitch Womens' Leagues, I would like to offer our condolences to all of Rose's family and friends. Rose was a long time player on Tuesdays and played with the Canadians in the Thursday league. She was well respected as a player, teammate and friend, by all of us who knew her. Godspeed my friend.
Rose and I played baseball for St. Andrew The Apostle Church many years ago……our team was called St. Andrew's Angels….so much fun…..heaven surely has another ANGEL….her name is ROSE!!! Sincere condolences to the family.
My thoughts and prayers are with the Durand family at this difficult time. I worked with Rose for many years at JPII. She always made me smile with her wonderful sense of humour and her awesome personality. Rose was genuine and caring, and I consider it a privilege to have known her. Rose touched many lives during her time here with us, and she will continue to watch over her loved ones from her new home with the Lord. Take care and God Bless, my friend.
I met Rose playing Huff n Puff baseball. Although we weren't on the same team she always said hi and we joked about being retired from the Catholic School Board. I could tell she was fun loving and and a genuine person. There was a real sense of loss when we were told at Tuesdays game that Rose had passed away. My condolences to the family.
I am truly heartbroken for everyone who knew Rose, especially her family which she held so dear. Our world became a better place because of her joy and love for our Lord. She truly was the hands of feet of Christ and mentored so many youth to grow in their faith. I have so many fond stories about Rose and every one of them brings me to tears of laughter. Be at peace my friend. Home with God and back to your beloved.
Aunt Rose was fun and loving. I will miss her beautiful smile. She was a generous soul with great faith. She rests now in heaven. God bless you Aunt Rose.
Rose was a kind and warm presence that I still remember from when she was chaplain at Mother Teresa Secondary School. Her faith in the Lord and love for others provided an example that sits with me today. Sending prayers and care to Rose's family and friends. Rest in Peace and Paradise, Mrs Durand.
Rose was absolutely lovely. She was a faithful, spiritual, gentle presence at St. Michael's Parish always willing to lend a hand whenever volunteers were needed. She was faithful, pleasant and caring. Her smile and laughter were contagious. Everyone who crossed paths with Rose is a better person. May her spirit live on through her family and may all your memories be fond. Eternal rest grant unto her Lord and may perpetual light shine upon her. May she Rest In Peace.
We were members of St. Andrew's Church several years ago when many families attended with their young children. It was always a joy to observe & interact with the Durand family. More recently, we occasionally saw Rose at weekday Masses in St. Michael's Church. She was my Confirmation sponsor 40 years ago. Her deep faith & engaging personality helped me along in this journey. May Rose's many friends, neighbours, former colleagues & students unite in supporting her beautiful family. Our prayers will remain with all of you.
So sorry to hear of Rose's passing. I have so many fond memories of playing slo pitch with her. She was a great player but more importantly an incredibly kind, sweet woman. I had many great conversations with her about her work at school and her family. She will be dearly missed. My thoughts are with her family.
We are very sorry for your loss. Praying for all of you. Teresa and Doug Arnsby Weaver
Chris/Darlene and family We are sorry and saddened for your loss, please know you are in our prayers at this time, cherish those many memories
I feel honoured to have known Rose. My thoughts and prayers are with the Durand family at this sorrowful time.
Our Deepest Sympathy to all the Durand Family 💕Rosanne was a hoot We had a lot of great times together RIP Rosanne
Prayers and condolences to the Durand family. Rose was a very strong, kind and remarkable woman, who was always full of laughter and joy. I had the privilege of working with her many years ago. Rest In Peace Rose.
Condolences to the Durand Family. I knew Rose when we were both Chaplains at the LDCSB. She was such a caring, loving and accepting woman of faith. She had a dry sense of humor and a twinkle in her eyes. Rose left the world a better place ❤️😢
I was so sorry to hear of Roses' passing. She was such a joyful and kind person and was a wonderful school Chaplain. The guidance and support she showed to my three sons will never be forgotten.
Dear James, Jenna and the Durand Family My heartfelt condolences on the loss of your mom. Sending you healing hugs. Angela Dearlove 🙏❤️
What a tragic loss. A beautiful lady, a warm, gentle soul, the kindest of hearts and one of the most down to earth people I've ever met. I was just talking to her last week. This will be a huge loss to her family, to us in the Huff 'n Puff community, and in general, to everyone who knew, loved and respected her.
To Rose's Family No one needs to tell you what a special woman your Mom was. Rose's laugh, twinkling giggle was contagious. I've enjoyed knowing Rose over the years. The most recent, on the volleyball court through the HuffnPuff organization. Rose and I were on the same team this past season, and had many conversations and laughs at the expense of the male "ball hogs" 😉. She was quick to share her knowledge and skills with others, especially our sweet Patti Bonk. She loved learning and improving from Rose's instruction. She will be missed by everyone when we get back to volleyball in the fall. RIP sweet Rose. 🌹💖😇🙏🏻
Our sympathy and prayers to Rose's family . We were friends growing up in Huron County and high school , many great memories 🙏 . Mike and Beatie Rau.
My deepest sympathy to the Durand family…I will miss seeing your mom in various places when I would run into her and we spent time catching up. She was a wonderful person, and we would have a few laughs over our shared experiences. May you find comfort in your memories of her.
Thank you, Rose, for your caring pastoral presence in high school as the school chaplain. In particular, leading chapel service for the football team on game days. I still remember the messages. Love and prayers to your family.
Our deepest condolence to the family of this beautiful and loving lady. So sorry for your loss.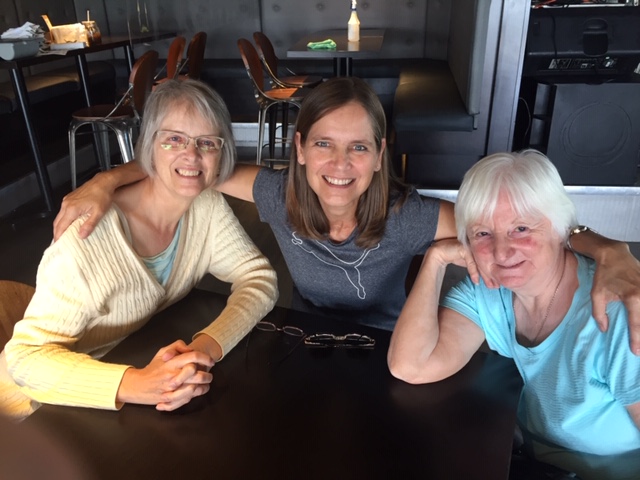 To the Durand Family, Your mom and meme was a remarkable woman! It was exactly a year ago that we travelled together to PEI to visit her good friend, my sister, Patricia. Rose was a hoot! We had so much fun together! However, she was also a deeply spiritual and caring, compassionate person from whom I gleaned much wisdom. She will be greatly missed.
I will truly miss seeing you at Mass, working with you in ministry and our lovely chats. You have helped countless youth in your role as Chaplin at MTS for which I am thankful and grateful. Well done good and faithful servant!
My condolences to the Durand family on the passing of Rose. I played volleyball with Rose for a number of years, and she was a pleasure to play with but more so to talk and laugh with. She will be missed by all who knew her.
I want to pass on my condolences to Rose's family. She was a great lady and a wonderful teammate. She taught me some great skills for playing third base while we played on the Canadians together, and I want to thank her for that.
Services for Rose Ann Marie Durand
Visitation will be held at:
Westview Funeral Chapel
709 Wonderland Road North,
London, Ontario
August 7, 2022 2:00 pm to 4:00 pm
Visitation will be held at:
Westview Funeral Chapel
709 Wonderland Road North,
London, Ontario
August 7, 2022 7:00 pm to 9:00 pm
Prayers will be held at:
Westview Funeral Chapel
709 Wonderland Road North,
London, Ontario
August 7, 2022 6:30 pm
Funeral Mass will be held at:
St. Michael's Parish
511 Cheapside Street,
London, Ontario
August 8, 2022 11:00 am
Make a donation
If you wish to make a donation, please consider one of the charities listed below. You will be taken to the charity's website to process your payment.
Canadian Pulmonary Fibrosis Foundation
Notify family of your donation
Kindly submit the form below if you wish to notify the family of your donation.